find out about new classes in 2024! Email us or sign up for an account.
Testimonials
Your classes were so worthwhile! Even now, in these tough times, I would find a way to make it work! Especially since they really do help these kids reach their goals.

Mrs. Pamela D.
You have been the best instructor and i have improved the most in your class. In the other classes I wasn't challenged much.

Corinne B.
Out of all of the people who have tried to help me reach my goal you are the only one who puts things into perspective, and also puts a sense of realism on what i hope to accomplish.

Rachel S.
Dream about being a fashion designer...
Find out what it's all about
Learn professional standards in fashion design
Complete your college application project

for fashion school
Or just have fun and make friends
This is the very best fashion class

for young designers 8-19
Dream about being a fashion designer...
Find out what it's all about
Learn professional standards in fashion design
Complete your college application project
for fashion school
Or just have fun and make friends
This is the very best fashion class
for young designers 8-19
Take a quick look at our mini newspaper fashion show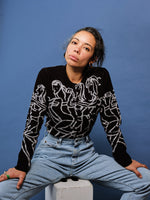 Shop Elana Carello Sweaters
Shop our novelty knits. All styles in 100% cotton in sizes Small to 2XL
Shop Now